Kachofugetsu • 花鳥風月 Exhibition @ Arts Rush Gallery, Daikanyama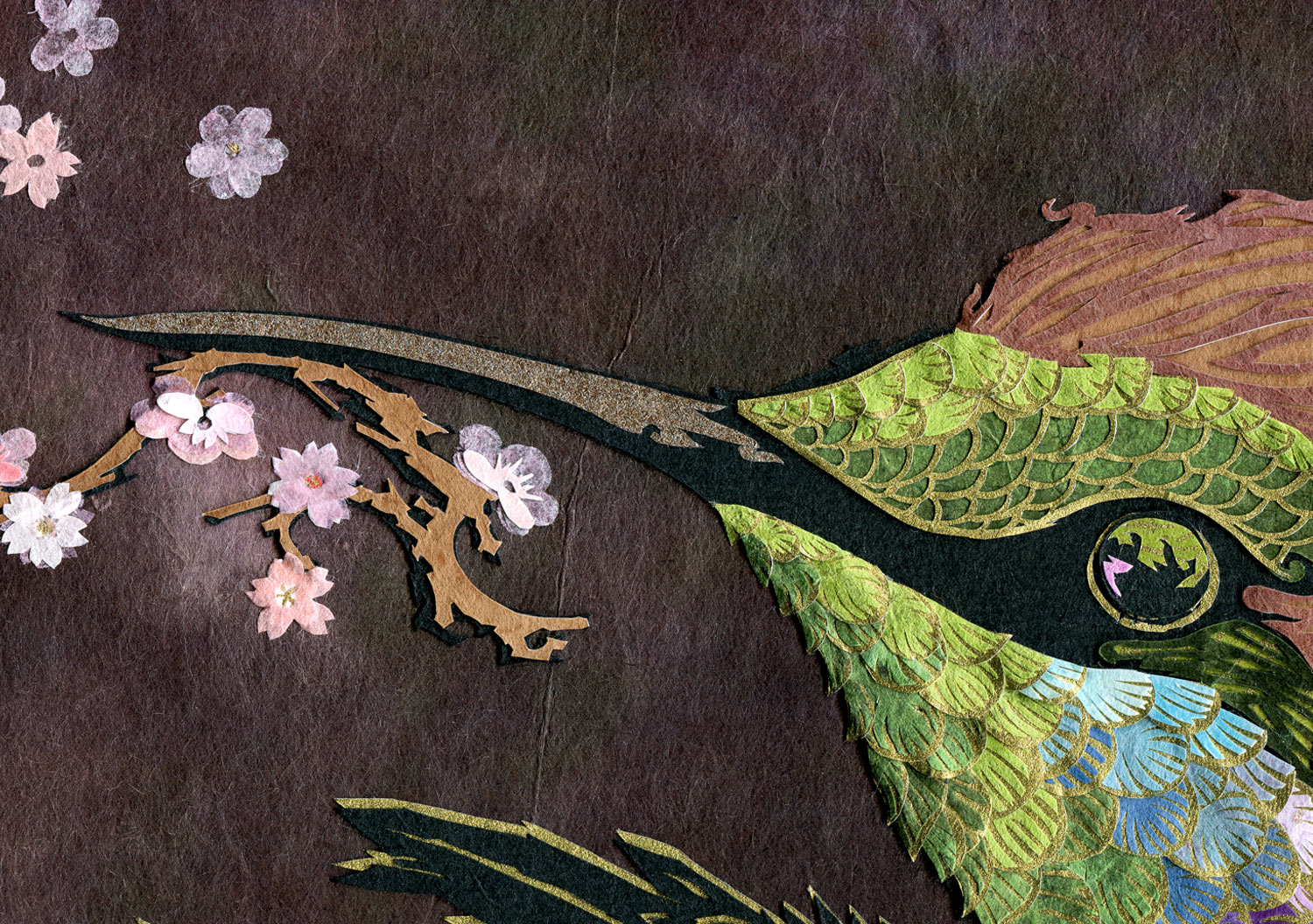 March 21 - April 2, 2018 @ Arts Rush Gallery, Tokyo
Just shy of two years ago, Arts Rush Gallery held their first Kachofugetsu • 花鳥風月 exhibition.
My life has changed dramatically since that time, both professionally and personally. Funnily enough, the one thing that hasn't changed in that time is the artwork I planned to show at the event, a detail of which you can see above. I'd never made a piece quite like it, and it took a whole lot longer to fashion than I could have imagined. About two years, as it turns out. Sorta kinda.
In 2016, I wrote the following about Kachofugetsu:
That natural world, it's wonders and beauties, and the epiphanies it visits upon us puny mortals are the concerns of KachoFugetsu. 花鳥風月 (Kachofugetsu) is a yoji-jukugo (四字熟語), a collection of four Chinese/Japanese kanji characters that make up a sort of minimalist idiom, saying, or poem. 花鳥風月 are, literally and in order: Flower, Bird, Wind, and Moon. Together, these four icons of the natural world can be found in an uncountable number of Japanese paintings, calligraphy, poems, pottery, and more.
What I failed to mention is that Kachofugetsu shouldn't be literally assumed to mean art of flowers wafting in the wind, while birds flutter under the glowing moon. Rather, these images evoke a tradition, a history, a lineage of the appreciation of nature and beauty reflected in art and passed down through generations.
Traditions are as much a trap as a gift.
Its an easy mistake to replicate what came before without adding our own essence into the mix. When we stand on the shoulders of titans, we need to accept the responsibility of moving those traditions forward, of evolving them.
This year, seven of us are trying our hands at interpreting these themes for our increasingly strange times.
花鳥風月 • Kachofugetsu Exhibition
dates: Wed. March 21 - Mon. April 2, 2018
times: Wed・Thurs・Fri・Sat AM11:00~PM7:00
Sun・Mon・Holidays AM11:00~PM6:00
closed Tuesdays
place: Arts Rush, 1F 2-14-10 Ebisu-Nishi, Shibuya-ku, Tokyo 〒150-0021
tel: 03-3770-6786
gallery: website
directions: English map
directions: map (Japanese)
日付: 2018年3月21日 (水) ~ 4月2日 (月)

時間: 水・木・金・土 AM11:00~PM7:00
月・日・祭日   AM11:00~PM6:00
火曜日定休(入場無料)

住所: アートラッシュ • 〒150-0021 東京都渋谷区恵比寿西2-14-10 トゥワォン代官山103
電話: 03-3770-6786
ギャラリー: ホームページ
アクセス: 地図